Unique ID: gvcg 102019
Product Type: Guitars
Make: GVCG
Model: Esquire / Tele
Year: 2005
Price: sold
Color/Finish: Butterscotch
Availability: sold
Condition: Exellent
Spec Sheet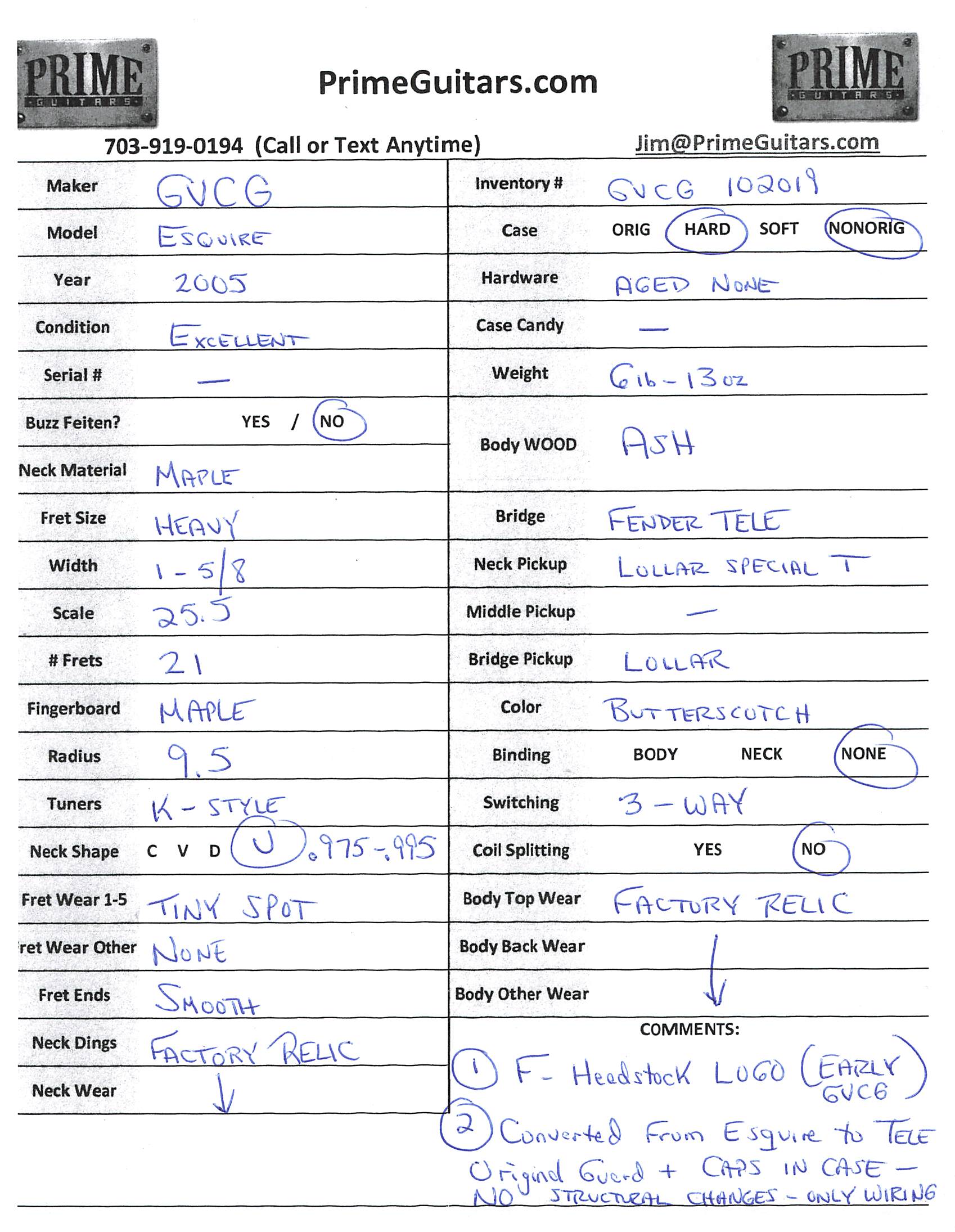 Description:
Early GVCG Esquire from the days when Jonathan was creating these with Fender logos!  IT has the trademark "rooster" in the neck pocket clearly identifying this piece as a GVCG.
This was professionally converted to a Telecaster…but relaaaaaxxxxx….no holes were drilled……the original guard & caps are included!  So YOU WIN!  I prefer having 2 pickups but if you only want one then it's all there for you.
SEE COMPLETE SPECS & CONDITION in the 3rd PICTURE.
LIGHT weight at just 6lb-13oz.  Have to LOVE the resonance of this piece.  The early GVCGs are the play.  I had the 'reissue 1' versions and they are fine guitars but not to the same level of WOW as the early versions.
SEE COMPLETE SPECS & CONDITION in the 3rd PICTURE.

This does NOT come with the 'patch' but it is a 2005 from what I can gather.
Buy from THE trusted source for boutique gear.  For over 13 years, PrimeGuitars (an internet store) has served THOUSANDS of customers! We search the WORLD for the coolest hard to find clean gear.  Why take a chance buying from some 'random'?