Unique ID: monty tob 082019
Product Type: Guitars
Make: Brian Monty
Model: Bluesmaster
Year: 2019
Price: SOLD
Color/Finish: Iced Tea
Availability: SOLD
Condition: Excellent
Spec Sheet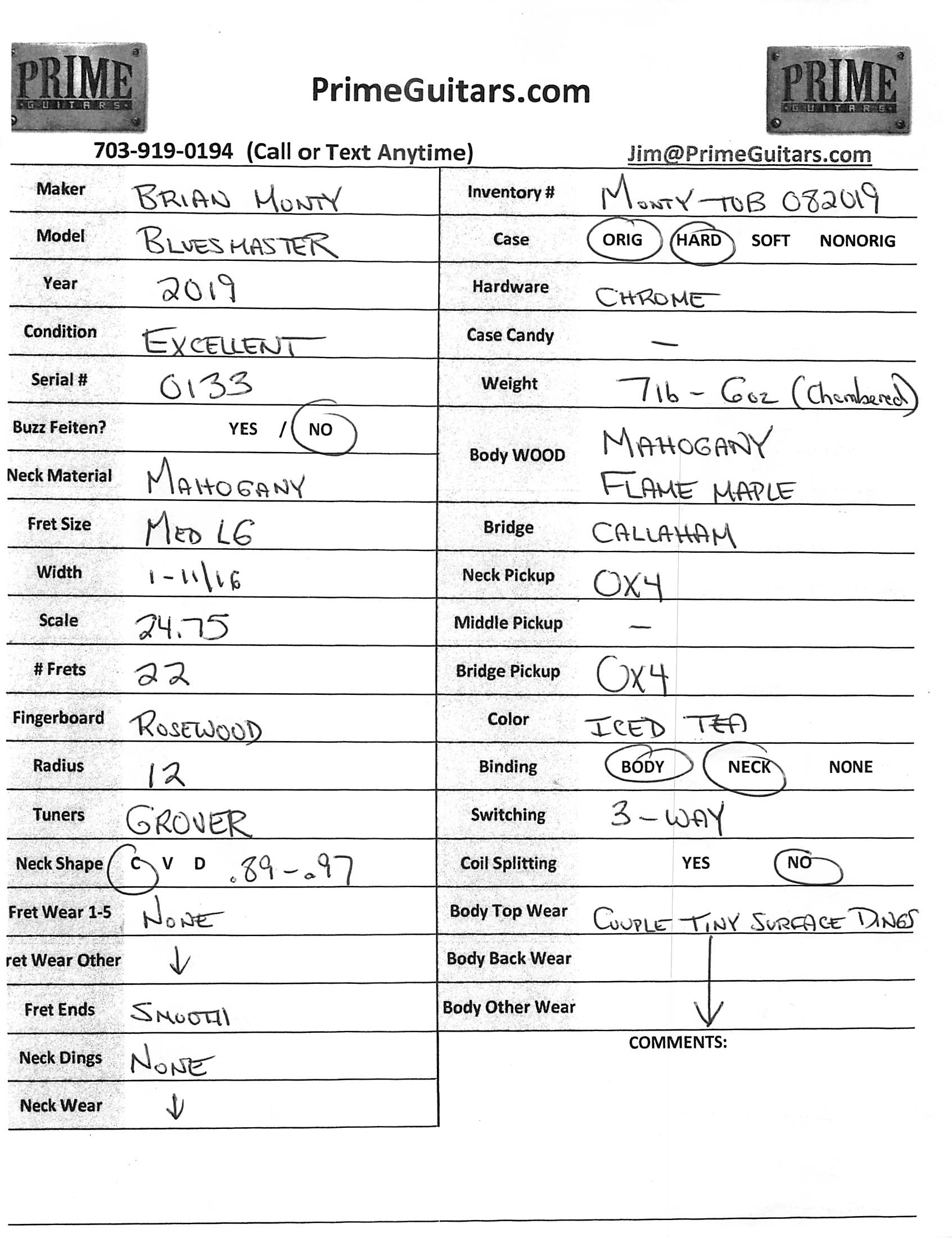 Description:
2019, that's right 2019 Brian Monty Bluesmaster.  Custom ordered by a loyal customer of Brian's…guy who has had at least 6 Monty Guitars.  This one has OX4 pickups and let me tell you it has THAT LP THICK Tone you have dreamed of.  I just put a set of OX4 pickups in my personal humbucker LP-style guitar and after all I have tried THEY are staying.
What a beautiful playing and sounding instrument.  The thin nitro is almost naked to the touch.  Tonally you will select this over almost any current production instrument.  It is THAT good and a bargain used (let alone new).   Vintage Guitar Mag reviewed Monty Guitars and loved them……….if you are not up on them you should be.  Build by 1 person….all by hand.
You can find ALL the SPECS & DETAILED CONDITION IN THE 3rd PICTURE..but here is a summary of the summary:
Just 7lb-6oz (yes it is chambered like virtually every Monty).
Original Hard Case
Callaham Bridge
Grover Tuners
C-Shaped Neck .89″ – .97″
1-11/16″ Width
LP Scale
12″ Radius
Indian Rosewood Board
Tiny bits of wear as described in spec/condition sheet.