Unique ID: danocaster red t 112019
Product Type: Guitars
Make: Danocaster
Model: Singlecut '59
Year: Recent
Price: SOLD
Color/Finish: Red
Availability: SOLD
Condition: Excellent "-" / VG"+"
Spec Sheet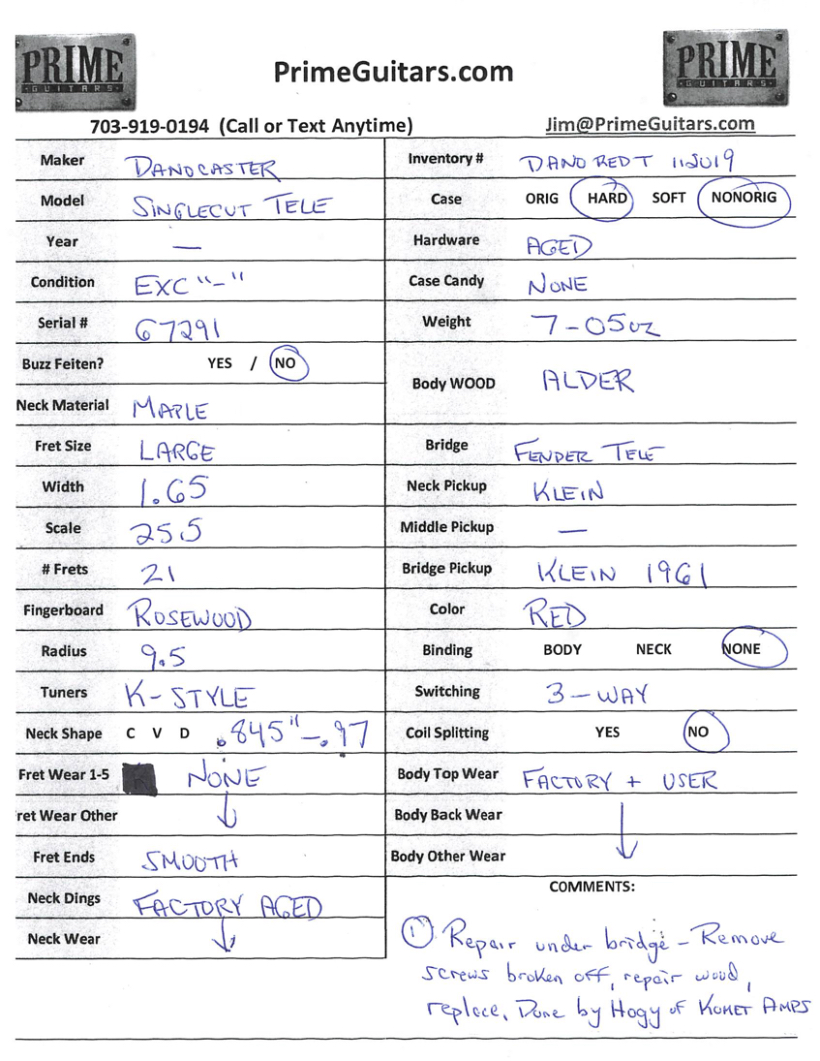 Description:
Dano TELE  featuring an Alder Body and Rosewood Board.  .845″ – .97″ Neck Profile.  No Fretwear.  Klein PIckups.  Weighs Just 7lb-5oz.
Super guitar.  Resonant and has that bite we just LOVE in a tele…but cleans up ever-so-nicely.  Wear appears to be a combination of factory & user.  Always hard to parse out which is which.
See complete Specs & Condition in the 3rd pic.
Couple things to note (1) no tag because likely pre-dates tags.  (2) Case is a hard after-market with a big gash in it. (3) Three of the bridge screw heads snapped off….came with one snapped & 2 others just snapped off when I tried to remove the bridge to inspect.  I sent the guitar to Hogy (KOMET AMPS) who is one of the most respected restoration men alive.  He removed the stubs, repaired the holes and redrilled/reinstalled the bridge.  A-grade, no expense spared repair.
Buy from THE trusted source for boutique gear.  For over 13 years, THOUSANDS of customers have selected Prime Guitars because we carry the finest in clean boutique gear.  We are an online store specializing in the coolest and hardest to find gear.  Why take a chance buying from a 'random' when you can deal with a proven entity.