Unique ID: DP Butterscotch 122020
Product Type: Guitars
Make: D'Pergo
Model: Signature Contoured Bakersfield
Year: 2013
Price: SOLD
Color/Finish: Trans-Butterscotch
Availability: SOLD
Condition: Excellent
Spec Sheet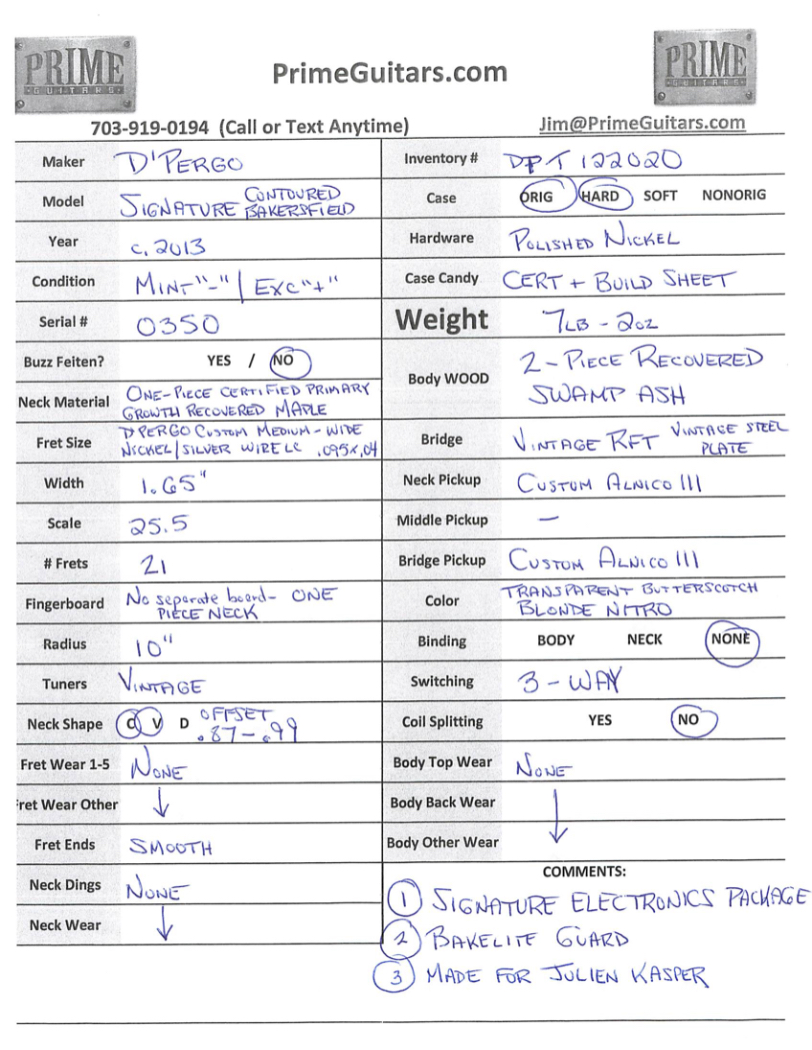 Description:
D'Pergo SIGNATURE Contoured Bakersfield (Telecaster).  This is about as high end a guitar as we carry.  New this was $15.5k about 7 years ago….today pushing $20k.  You rarely if ever see one for sale….and this was made for a celeb and well-known player of D'Pergos (Julien Kasper).
Every single detail of this masterful instrument is top of the line and painstakingling approached.  Start with the woods.  D'Pergo Guitars are build with the finest woods available.  OLD GROWTH, RECOVERED, PRIMARY GROWTH woods that are simply too expensive and rare for the big guys to mess with.  If you believe (like most do) that old wood is a major part of the secret for vintage guitars…well D'Pergo has been specializing in this for decades.
We have sold over 60 D'Pergo Guitars.  We can help you determine if this piece is suitable for your playing style and needs.
See the pictures.  There are all the details you desire about woods, measurements and wear.  This guitar is SUPER clean and barely shows any signs of use.
We do not have documentation supporting the celeb ownership; however, Mr D brokered this piece to the prior owner because Julien wanted essentially the same instrument but chambered and this became duplicative.
Buy from THE trusted source for boutique gear.  For over 14 years, THOUSANDS of customers have selected Prime Guitars because we carry the finest in clean boutique gear.
We are an ONLINE STORE specializing in the coolest and hardest to find gear.  Why take a chance buying from a 'random' when you can deal with a proven entity.