Unique ID: JG Black 072019
Product Type: Guitars
Make: Gustavsson
Model: Bluesmaster P90
Year: 2011
Price: SOLD
Color/Finish: Gloss Black
Availability: SOLD
Condition: Excellent
Spec Sheet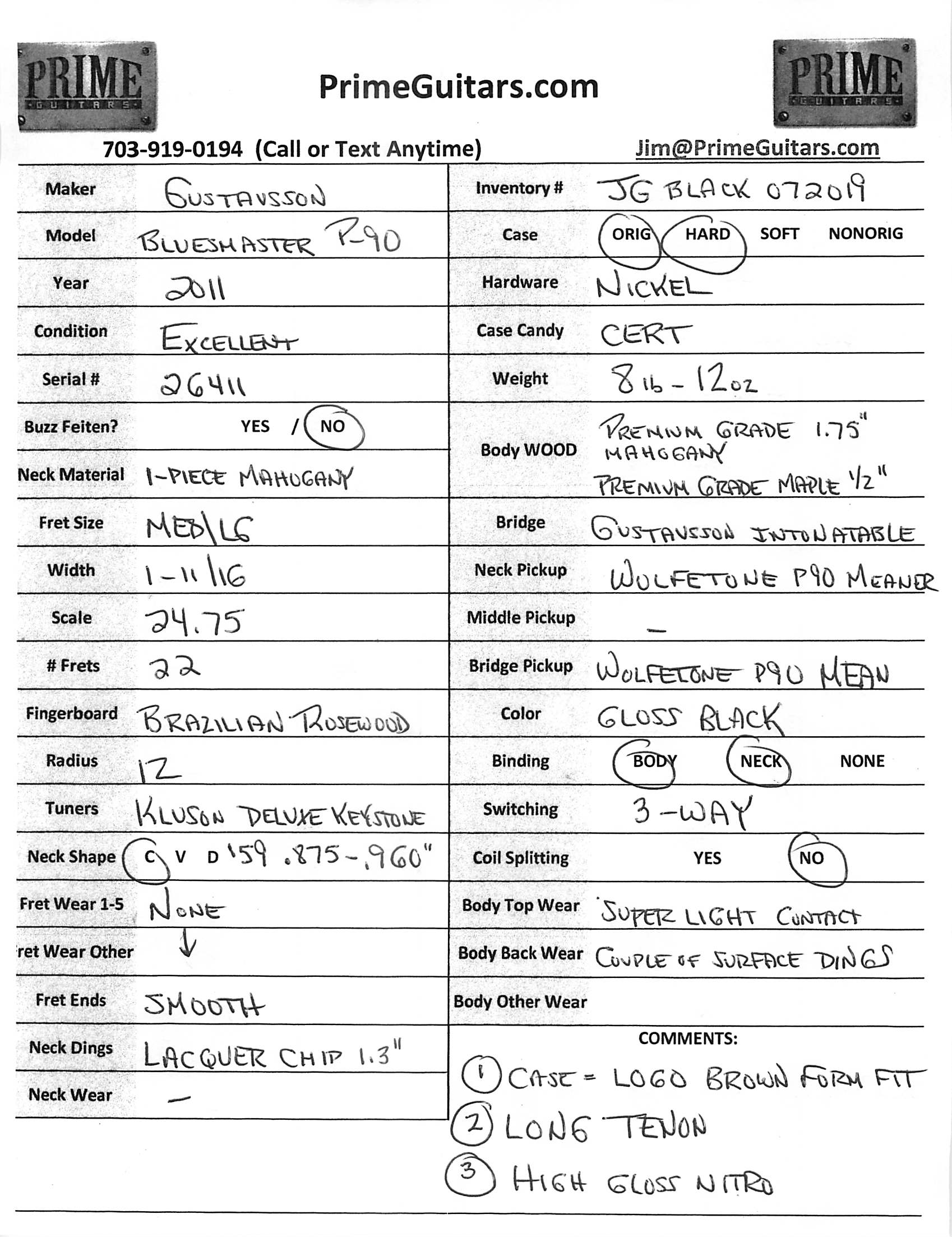 Description:
2011 Gustavsson Bluesmaster P90 in tuxedo!  Gloss Black with binding on both the body & neck.  This understated piece conjures up images of the 50s classics but without the undisclosed issues, playability concerns, hit-or-miss tone and of course the seldom disclosed weight.  This is a Tele in LP Clothing that happily marries the best of both worlds. It is said the best LPs are Teles on steroids….well, here you have the consummate example.  Many have tried to achieve this…..Gustavsson successfully achieves it.  The body is NOT an exact tele shape…it is slightly modified while retaining the aesthetic.
This ain't no Hamer boys…this ain't no tele either….
Brazilian Rosewood Board.  Premium Grade 1.75″ Mahogany with Premium Grade 1/2″ Maple.  C Profile neck measuring around .875″ – .96″.  Logo Brown Form Fit Rectangular Case.  Long Tenon.  High Gloss Nitro Finish.  Wolfetone P90 (Meaner set).  Comes with the Certificate of Authenticity.
Tonally this one has some serious snap even in the low end.  One of my favorite Gustavssons to ever pass through (and we have had more than just about anyone).  Excellent condition from nonsmoking environment.
SEE ALL THE SPECS & CONDITION IN THE 3RD PICTURE