Unique ID: lentz t new 112019
Product Type: Guitars
Make: Scott Lentz
Model: Traditional T
Year: 2019
Price: sold
Color/Finish: Olympic White
Availability: sold
Condition: BRAND NEW - AUTHORIZED DEALER
Spec Sheet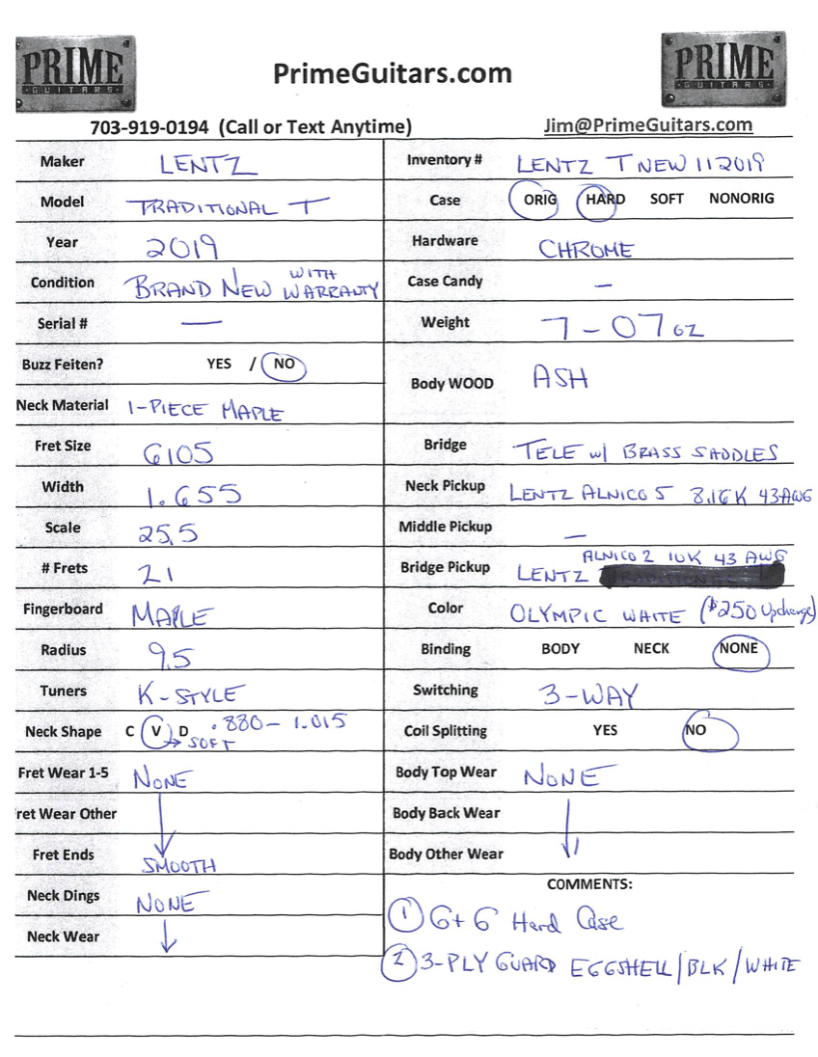 Description:
Time and time again we stress that LENTZ Guitars are THE benchmarks for the boutique guitar industry.  You can spend more…you can upgrade…you can hunt…you can scour internet postings…you can talk to every builder….but I can't think of anyone ever who has said an unkind word about a Lentz instrument.  They have been there since the beginning and have withstood every single challenge from every flavor of every week.  We are PROUD to be AUTHORIZED DEALERS!
SEE 3rd PICTURE FOR COMPLETE SPECS! 
This piece is a Brand New (Warranty of course) Traditional T…just in!  Comes with the G&G Hard Case.  Olympic White ($250 upcharge) and a perfect Soft-V neck measuring .88″ – 1.015″.    Lentz Alnico 2 10k Bridge Pickup & Alnico 5 8.16K Neck.  9.5″ Radius, 6105 frets and a 1.655″ Width (meaured by me).   Ash Body and 1-piece Maple Neck.
Buy from THE trusted source for boutique gear.  For over 13 years, THOUSANDS of customers have selected Prime Guitars because we carry the finest in clean boutique gear.  We are an online store specializing in the coolest and hardest to find gear.  Why take a chance buying from a 'random' when you can deal with a proven entity.