Unique ID: Ronin Badmoon 122020
Product Type: Guitars
Make: Ronin
Model: Badmoon
Year: 2019
Price: SOLD
Color/Finish: Natural
Availability: SOLD
Condition: Excellent
Spec Sheet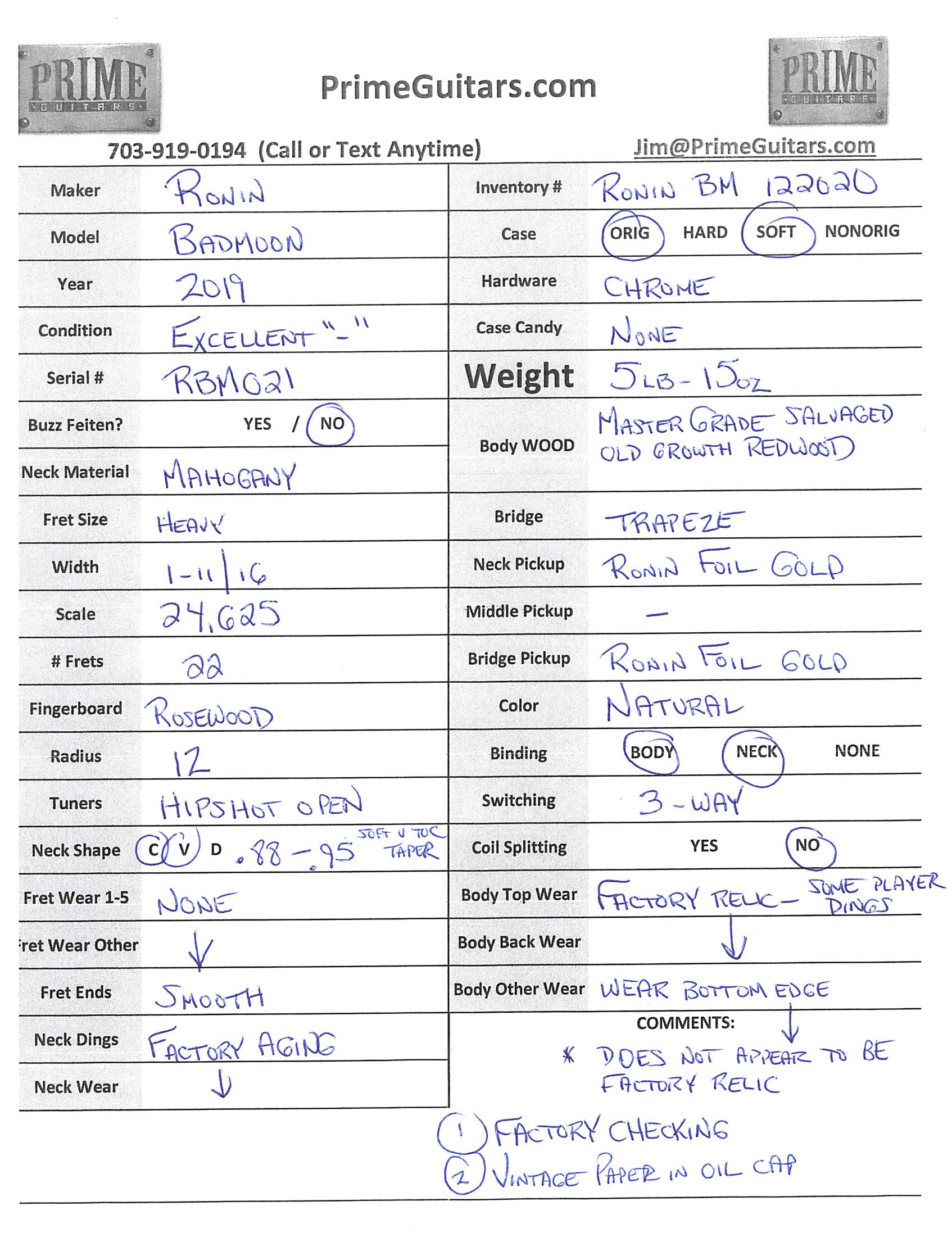 Description:
Very recent Ronin Badmoon from one of the last batches to be produced.   If you haven't played a Ronin Badmoon you are in for THE most additive piece you can add to your collection or arsenal.  You chase tone….you have X of this same model because of slight differences in tone…..cast that aside friend….RONIN is like none other.  Picture, if you can, an amplified acoustic meets Tele meets LP Jr meets Gretsch meets Ric……Play with feeling?…this LOVES if you dig into it but responds so well if you vary your attack.  I've sold Ronins to A-list Celebs….collectors and everyday players.
This piece features the upgraded MASTER Grade Salvaged Old Growth Redwood.  IT weighs just 5lb-15oz.  Factory aging but there is one area shown where it's difficult to determine if the wear is factory or user…in any event it fits into the character of the piece given the 'luthier' wear.
SEE COMPLETE SPECS & CONDITION in the 3rd PICTURE
Buy from THE trusted source for boutique gear.  For over 14 years, THOUSANDS of customers have selected Prime Guitars because we carry the finest in clean boutique gear.
We are an ONLINE STORE specializing in the coolest and hardest to find gear.  Why take a chance buying from a 'random' when you can deal with a proven entity.
We offer our expert selection process…..benefit from US searching the world for clean, rare items…we test them…we vet them….YOU save time, energy and the pain of those 'great deals' gone wrong.