Unique ID: ronin mirari blue 082019
Product Type: Guitars
Make: Ronin
Model: Mirari
Year: 2016
Price: SOLD
Color/Finish: Aqua Flake Sparkle
Availability: SOLD
Condition: Excellent
Spec Sheet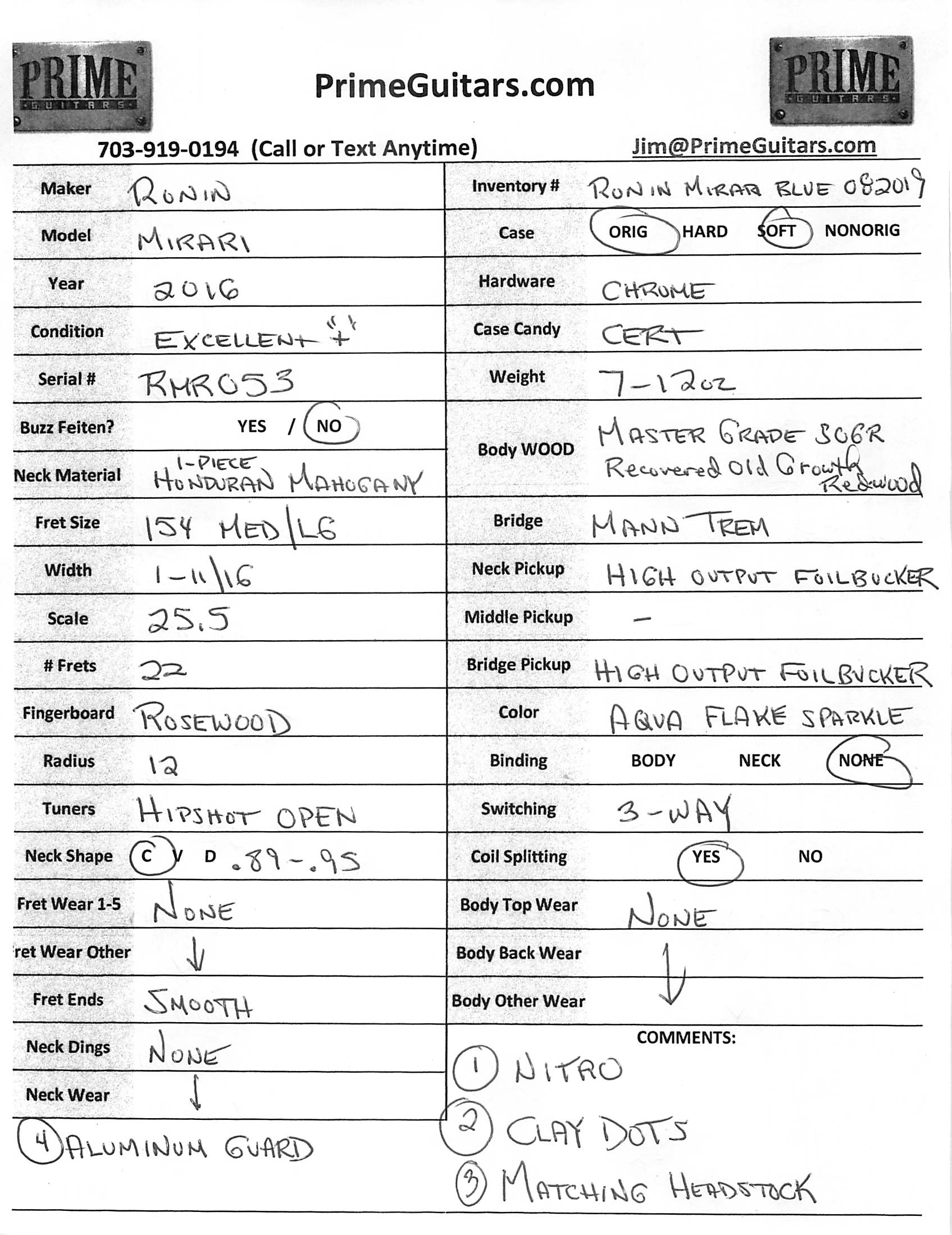 Description:
2016 Ronin Mirari in custom 1-off Aqua Flake Sparkle!  This guitar was originally made for ME when I was the world's only Authorized Ronin Dealer.   We loaded this with upgrades and features.  John & Izzy outdid themselves to create the ultimate Ronin.   Pretty sure we achieved that goal.
For the body, John selected his special low availability Master Grade Old Growth Recovered Redwood (aka SOGR).  He used a 1-piece Honduran Mahogany Neck and carved a perfect "C" .89 – .95 profile for me.   The width is 1-11/16 and the frets are Med/Lg "154" size for those who want exact specs/type.  The weight is perfect at 7lb-12oz and it is balanced and comfortable sitting or standing.
The pickups were a unique set of High Output Foilbuckers and they have more oomph and warmth than the traditional Foilbuckers.   Of course you can split the coils on these.   12″ Radius, Hipshot Tuners, 25.5″ Scale.
The finish just wows me to this day.  I am a sucker for a blue guitar. THIS blue is so perfect that it is edible.  The matching headstock is a great balance with the dark Rosewood Board.  The guard is hand-crafted aluminum.  Clay dots on the board…old school.  Thin nitro finish.  Just a guitar that you dream about…and it came true!
I have to say tonally this is in the top 10-percent of Ronins we had at the shop.  One of my favorites because it's large and warm tonally.
You can see the complete specs & detailed condition in the 3rd picture.