Unique ID: ta 082019
Product Type: Guitars
Make: Tom Anderson
Model: Drop Top
Year: 2011
Price: SOLD
Color/Finish: Light Tiger Eye Burst
Availability: SOLD
Condition: Excellent
Spec Sheet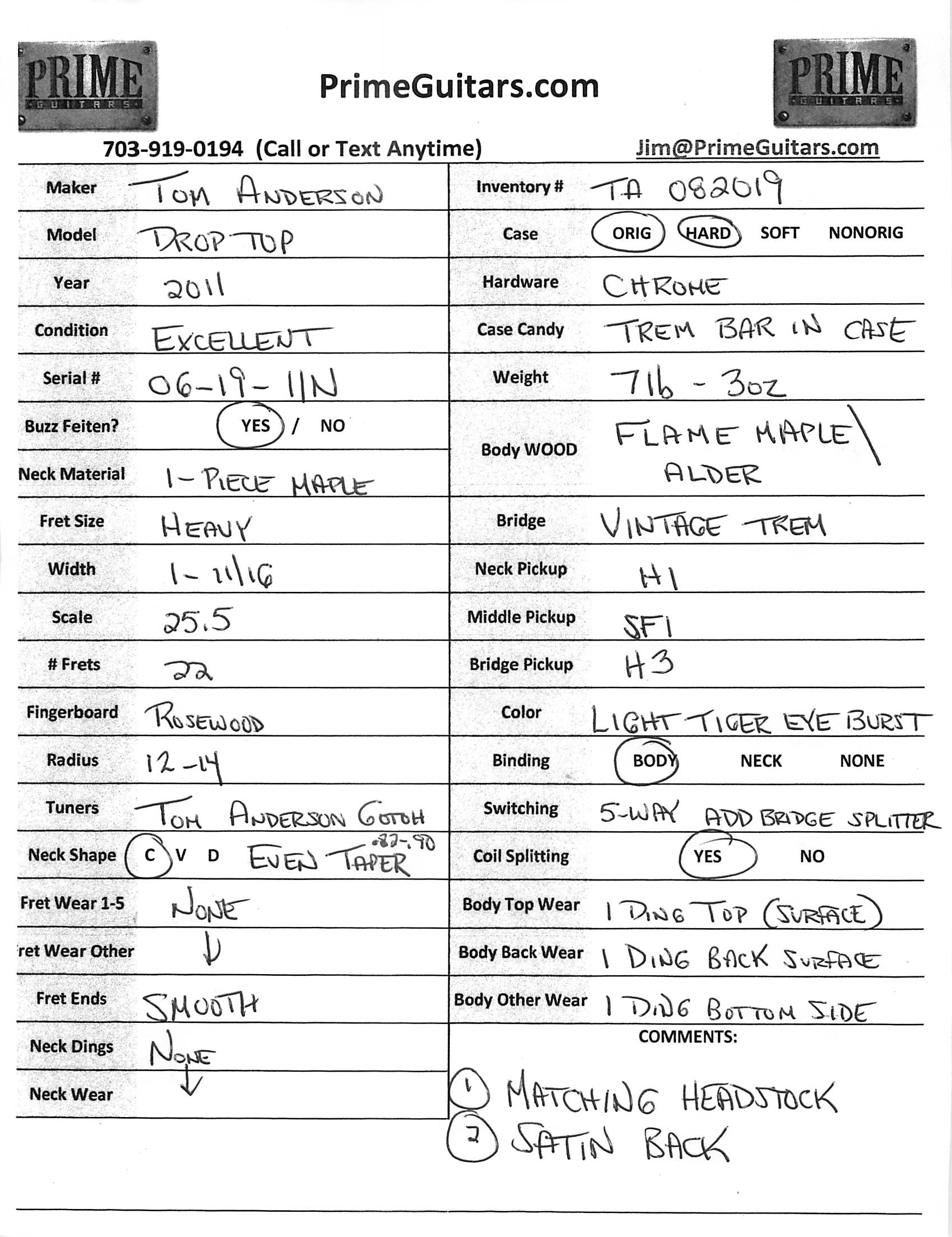 Description:
Probably not a more iconic boutique guitar than a Tom Anderson Drop Top.  These are so often copied but nothing achives the level of "tight" that a Tom Anderson does.  Tonally consistent like few other brands.  Each is a unique piece despite them being produced in decent quantities.  They were my first non-PRS boutique and they hold a special place in my heart.
This piece is from 2011 and is super clean & from a smoke free environment.  Of course it comes with the original hardshell case (and YES the TREM BAR).  The finish is unique….Light Tiger Eye Burst for those who want a fresh color but not an 'easter egg'.    The pickup configurations on this allow you to make it your grab and go.
I LOVE these guitars through modeling amps such as an Axe FX.  I tried this through my AxeIII and the results are amazing.  You truly achieve Strat, LP and even LP Jr Tones. SUPER snappy and punch when you want and thick and chewy when you need to change pace.
You can see all the Specs & Condition in the 3rd Picture.  Buy from the trusted source for boutique gear. For over 13 years we have supplied thousands of rare modern pieces to players around the globe….or you could take a shot and get something from some 'random'…..