Unique ID: Wysocki T 122020
Product Type: Guitars
Make: Wysocki
Model: Tele
Year: 2020
Price: SOLD
Color/Finish: Trans-White NItro
Availability: SOLD
Condition: Excellent
Spec Sheet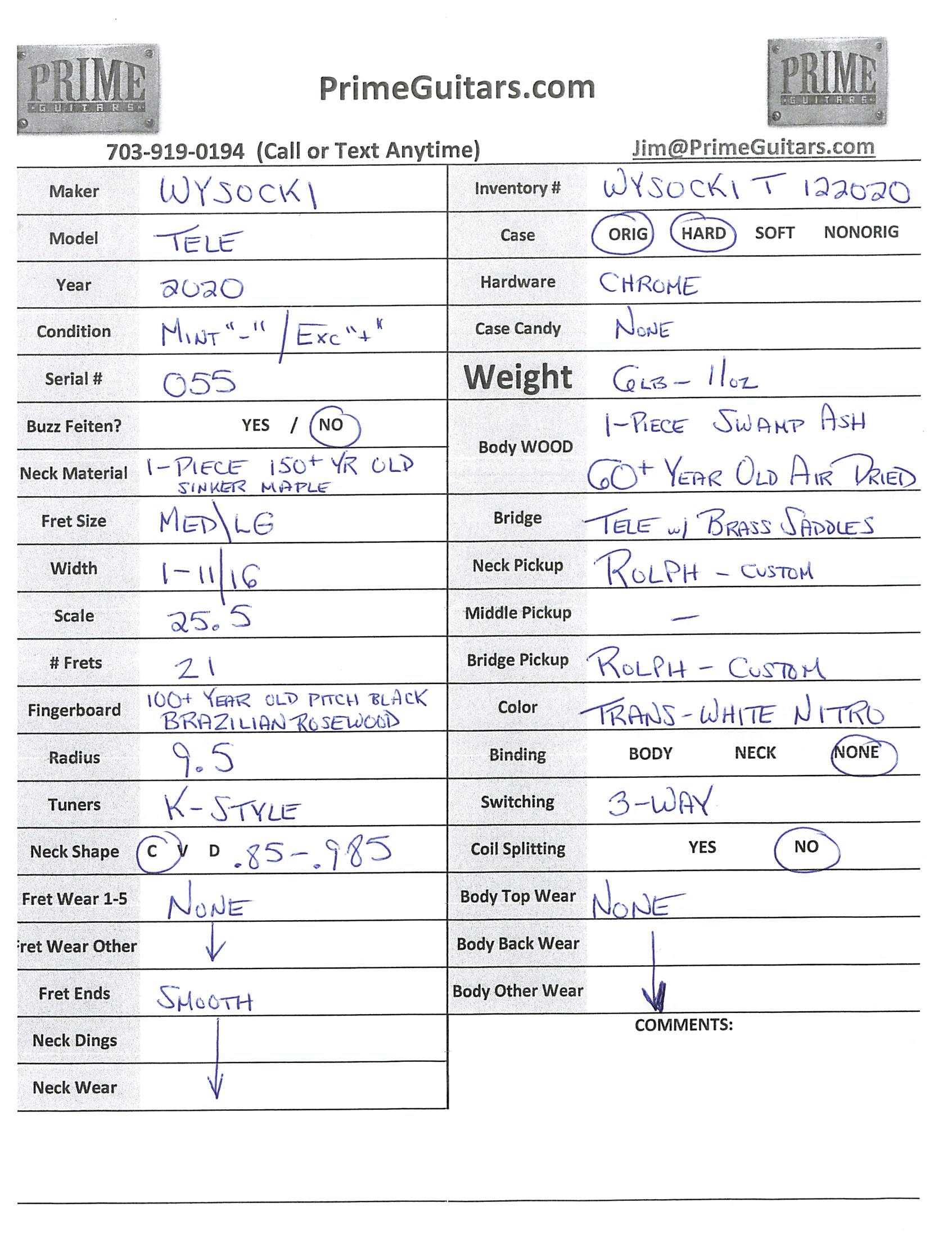 Description:
So you spend your time searching for guitars.  You ask a zillion questions about them.  You read.  You play.  You test.  Details matter to you.  You understand that quality in equals quality out.  You're reading this ad because you are intrigued.  Yeah you have seen 'boutique' guitars ….names and faces…..maybe you've tried one or owned a few…you pay a huge premium for 1-piece bodies….brazilian rosewood….nitro finishes…hand craftsmanship….light weight.   But what you're missing is THE WOOD damn you!…the freaking WOOD quality.
There are different GRADES OF WOOD AND THE BIG GUYS CAN'T WASTE THEIR TIME FINDING ODD PIECES TO MAKE 1 GUITAR.
Now…if ONLY there was a wood guy.  If ONLY that wood guy was the GO TO guy for the past 50 years.  If ONLY that go-to wood guy kept aside some CHOICE pieces and CREATED A HAND MADE INSTRUMENT then SOLD IT…..how does that not get every hair on your body (or the few that are left) standing up!?
Larry Wysocki is THE wood guy.  His instruments have recovered, air dried, exotic woods.  This guitar has a 1`-piece 60+ Year Old Air Dried piece of Swamp Ash.  The neck is 150+ year old SINKER MAPLE (D'pergo guitars with this are $16k).  Board is the DARKEST Brazilian we have seen……100+m Year-Old PItch Black!
Pickups?  Custom wound ROLPHs.  Weight?  6lb-11oz.  So think about all the pieces of wood you have to scour through to combine them into something that then comes out with a world class low weight too.  See why this is such a desirable piece?
Ok so now that you get it….read the 3rd picture for a complete Spec & Condition Sheet.  We are the ONLY Authorized Dealer for Wysocki Guitars….damn proud of it.  We get the very few a year that don't go directly to a celeb (Larry only creates guitars on order for celebs now).
Buy from THE trusted source for boutique gear.  For over 14 years, THOUSANDS of customers have selected Prime Guitars because we carry the finest in clean boutique gear.
We are an ONLINE STORE specializing in the coolest and hardest to find gear.  Why take a chance buying from a 'random' when you can deal with a proven entity.
We offer our expert selection process…..benefit from US searching the world for clean, rare items…we test them…we vet them….YOU save time, energy and the pain of those 'great deals' gone wrong.  $6499